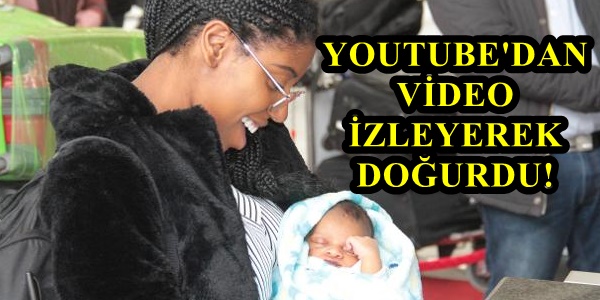 Mart ayında Almanya'ya yolculuk ederken İstanbul'dan aktarma yapan ve yerleştiği otelde kendi başına doğum yapan ABD vatandaşı kadın uzun süre konuşulmuştu. Bebeğiyle havaalanına gelmesinin ardından ülke çapında haberlere çıkmış ve hatta bebeğinin adını Türk Hava Yolları çalışanları " Ata" koymuşlardı.İşte o anne, hikayenin bilinmeyen kısımlarını bu sefer Twitter hesabında anlattı: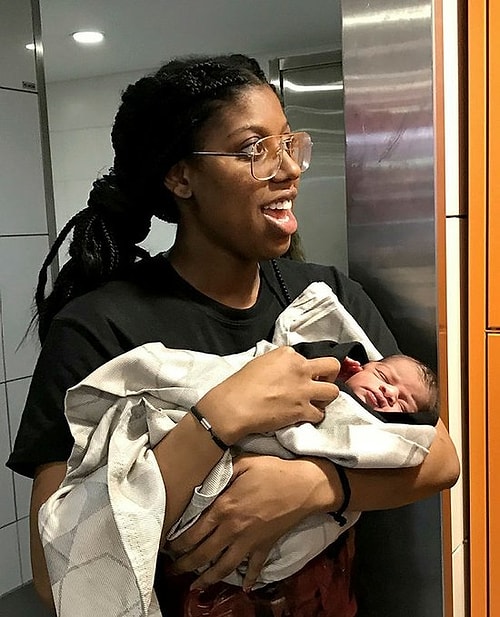 "Doğum hikayemin nesi bu kadar şaşırtıcı hala anlamıyorum. Belki bir gün anlarım"
I still really don't understand what's so shocking about my delivery story. Lol maybe it'll set in one day.— Tia (@TheWittleDemon) April 24, 2018
"Bir süre boyunca hamile olduğumu bilmiyordum (çoktan üçüncü üç aylık dönemdeydim) ve siz sormadan söyleyeyim, kullandığım doğum kontrol hapı aylık döngüm olmamasına neden oluyordu. Yani regl olmamak benim için bir gösterge değildi. Tüm bunların üstüne, kilo da almamıştım. 'Hamile olduğumu' öğrenince ben:"
I didn't know I was pregnant for awhile (already in my 3rd trimester) and before you ask the birth control I was on made it so I didn't have a cycle every month. So not having a period wasn't an indicator for me. On top of that I didnt really gain any weight. Me when I found: pic.twitter.com/An5QA3hX8A— Tia (@TheWittleDemon) April 24, 2018
"Sonra bir ay daha inkardaydım çünkü hamile olamazdım. Bu sırada Eski Asker İlişkileri'nde ve herkesten uzakta çalışıyordum, o yüzden kimseye söylememeye karar verdim. Salak kafam belki geçer diye düşünüyordu..."
So then I'm in denial for another month after that like there's no way a Bitch is preggo. At this point I'm working in VA and away from everyone so I just decided not to tell anyone. My dumbass was like maybe it'll just go away... pic.twitter.com/TtSMTqc7Ln— Tia (@TheWittleDemon) April 24, 2018
"Almanya'da tatil için de çoktan biletleri almıştım ve uluslararası uçuş parasını harcayacak halim yoktu. O yüzden düşündüm ki çocuk zamanında gelirse sorun çıkmayacaktı. O yüzden Almanya uçağına atlamadan önce iki saniye eve uğradım."
So I had already purchased tickets for a vacay in Germany and ya girl was not about to waste international flight money. So I was like if the boy comes on time I should be all good in the hood. So I came home for two seconds before hopping on the my flight to Germany. pic.twitter.com/SWYOpatnEN— Tia (@TheWittleDemon) April 24, 2018
"Her şey yolunda gidiyordu ama 14 saatlik bir uçuştu bu. Bedava yemek vardı ama her şeyin içinde et vardı ve bildiğiniz gibi ben vejetaryenim o yüzden 'bunu yiyemem' diye düşünüyordum ama 14 saat beklemek için çok uzun o yüzden midemin bulanmayacağını umarak sombalığını yemeye karar verdim."
So everything is going well no biggie but dawg this is a 14hr flight & there was a complimentary meal but everything had meat in it & you know I'm a vegetarian so I was like I can't eat this but 14 hrs was too long to wait so I decided to eat the salmon hoping I wouldn't get sick pic.twitter.com/9CfF4XzYzT— Tia (@TheWittleDemon) April 24, 2018
"Sombalığından mıydı, uçuştan mıydı yoksa zamanım mı gelmişti bilmiyorum ama durup duruken kramplar başladı. Daha inmemize bir saat falan vardı. Gıda zehirlenmesi olduğunu biliyordum. Canım acıyordu millet."
No I don't know if it was he salmon, the flight, or it was just my time but out of no where I start cramping up. I've still got like an hour left before we land. I just knew I had food poisoning. Y'all I was HURT pic.twitter.com/WBgWcG0NkU— Tia (@TheWittleDemon) April 24, 2018
"'Bu kramplar nereden geliyor?' diye düşünüyordum. 'Ne var biliyor musun, uyuyacağım. Uyku her şeyi iyileştirir, değil mi?'"
I'm like oooooh shit where are these cramps coming from? You know what I'll just go to sleep. Sleep cures everything right pic.twitter.com/z9QcUxdMtD— Tia (@TheWittleDemon) April 24, 2018
"Neyse, inene kadar dayanıyorum ama uyandığımda kramplar daha da kötüleşmiş oluyor ve 'Sadece otele gitmek istiyorum." diye düşünüyorum. Konaklama adresim orası ve burada (İstanbul, Türkiye) sadece 17 saatliğine bulunuyorum. Fakat gümrükten geçmek ÇOOOK uzun sürdü."
So anyway I make it until we land but when I wake up the cramps have gotten worse and I'm like okay I just want to make it to my hotel. Its my layover and I'm only here (Istanbul, Turkey) for 17hrs. But getting through customs took FOREVVVVVVVERRRRR pic.twitter.com/VUFDhyrCR1— Tia (@TheWittleDemon) April 24, 2018
"Resmen trabzanlara tutunarak sıralardan geçmeye çalışıyorum. Bu noktada bayılacakmış gibi hissetmeye başladım. Terliyorum. Kusacak gibi hissediyorum. Bunları yaşıyorum. Sonra birden düşündüm ki "Doğuruyor musun sen??"
I'm literally gripping the railing trying to make it through the lines. At this point I feel like I'm about to pass out. I'm sweating. I feel like I have to vomit. I'm going through it. Then I'm like wait a minute bitch are you in labor?!!! pic.twitter.com/p6SMEfunP0— Tia (@TheWittleDemon) April 24, 2018
"Neyse, Google'da aratmaya karar veriyorum. Ama internet "Güzel kardeşim, doğum ile yalancı kasılmalar arasındaki tek fark suyunun gelmesi." diyordu ve kesinlikle yardımcı olmuyordu. O yüzden ciddi mi değil mi öğrenene kadar beklemem gerekti."
So my ass decides to google it. The internet was like well my good sis the only thing different between labor and Braxton Hicks is your water breaking. This was completely not helpful so now I gotta wait until then to knownif this is legit or not. pic.twitter.com/fzXPGcDtV0— Tia (@TheWittleDemon) April 24, 2018
"Her türlü, bu havaalanında doğurmuyorum, o yüzden kendime gaz vermeye başladım çünkü bu bebeği bu havaalanında DOĞURMUYORUM. Sonra kendi kendime havaalanının zemininde doğuracaksın diye konuşmaya başladım. O yüzden kendime gelmem ve otele gitmem gerekiyordu."
Either way it goes I'm not giving birth in this airport so I start gassing myself up bc I am NOT having a baby in this airport. I start talking to myself like Bitch what you're not gonna do is give birth on the airport floor. So you need to get it together & make it to your hotel pic.twitter.com/Ywjk9fmsaD— Tia (@TheWittleDemon) April 24, 2018
"Otele gidiyorum ve şimdi doğurduğumdan eminim. Doğurmuyor oluşumun imkanı yok çünkü şu noktada ayakta bile duramıyorum. Kimsenin İngilizce konuşmadığı yabancı bir ülkedeyim, acil durum telefon numarasını bilmiyorum, ne yapacağıma dair hiçbir fikrim yok."
I make it to my hotel & now I'm sure I'm in labor. There is no way in the world I'm not in labor because I can barely standup at this point. So I'm in a foreign country, where no one speaks english, I don't know this country's emergency number, & I have no clue what to do. pic.twitter.com/sk6k10zdu5— Tia (@TheWittleDemon) April 24, 2018
"Sonra gerçek Y Kuşağı formuma bürünüp YouTube'da aramaya karar verdim. Arkamda kimse yoksa da internet vardı! Şimdi otel odasında tek başıma kendi bebeğimi nasıl doğuracağımı öğreniyordum."
So in true millennial form I decided to @Youtube it . If no one else had my back the internet would! So here my ass is in my hotel room all by my lonesome learning how to deliver my own baby pic.twitter.com/v13ZhF6O8h— Tia (@TheWittleDemon) April 24, 2018
"İşte, şimdi OYUN ZAMANI millet. Gerilecek zamanım yok. İşleri halletme vakti. Harekete geçiyorum. Küveti ılık suyla doldurup, ısırmak için bir havlu alıyorum, çıkınca kızımı ya da oğlumu sarmak için de başka bir havlu."
So yo it's GAME TIME. I don't have time to be nervous. It's time to get shit done. I spring into action. Filling up the tub with warm water #WaterBirth, grabbing a towel to bite down on, grabbing another towel to wrap him/her up with whenever it pops out pic.twitter.com/PVu2SWLCiG— Tia (@TheWittleDemon) April 24, 2018
"Adrenalin başlayınca insanın nasıl odaklandığı garip bir şey. Çünkü hiçbir noktada korkmadım. Yapmam gerekeni yaptım."
It's weird how focused a person becomes when they're adrenaline starts going. Because at no point ever did I freak out. Like I just did what I had to do.— Tia (@TheWittleDemon) April 24, 2018
"Neyse, üstümü çıkarıp küvete tırmandım. İnternette insanların rahat bulduğu birkaç pozisyon olduğu yazıyordu. Benim için işe yarayanı buldum ve sonra dedim ki 'Hadi bu bebeği doğuralım.'"
So anyway. I strip down and climb in the tub. The internet said there were a couple positions that people find the most comfortable. I picked the one that worked for me and I was like okay BOOM let's birthed this baby. pic.twitter.com/I6BabFMcCD— Tia (@TheWittleDemon) April 24, 2018
"İnternette kasılmalarım iki dakika aralıkla olana kadar itmeye başlamamam gerektiği yazıyordu. Çünkü kendinizi erkenden yorarak çocuk gelmeye hazır olduğunda yeterli enerjiye sahip olmamayı istemezsiniz. Ben de dedim, 'Tamamdır, telefonunda kronometre var. Bunu yapabilirsin!'"
So the internet said I shouldn't start pushing until my contractions where 2mins apart. Bc you don't want to exhaust yourself too early and then not have any energy when the kids ready to come, you know? And I'm like okay bitch you've got a timer on your phone. You can do this! pic.twitter.com/QSi7iJ4vAx— Tia (@TheWittleDemon) April 24, 2018
"Kasılmalarım çoktan bir dakika aralıklıydı. Çok geç kalmıştım. Odama zar zor vardım. Ağzıma bir havlu koydum ve itmeye başladım. Ve hayatımda böyle bir acı ASLA hissetmedim. İkiye ayrılıyormuşum gibi hissediyorudm. Epidural'ım neredeydi?"
My contractions were already at a minute a part lol I was late as hell. I BARELY made it to my room. so I throw the towel in my mouth and start pushing. And I have NEVVVVEEERRRR felt any pain like this in my life. I felt like I was being split open. WHERE WAS MY EPIDURAL?! pic.twitter.com/HGlootcNHu— Tia (@TheWittleDemon) April 24, 2018
"Neyse ki çabucak bitti. Bebek çıkmadan önce 5-6 kere itmem gerekti. Şunu da söyleyeyim, bebekler batmıyor. Küçük şakacı 'bloop' diye ses çıkardı ve suyun yüzeyine çıkıverdi."
Luckily it happened pretty quickly. I only had to push about 5-6x before a baby popped out. Lol now let me tell you babies are buoyant. That little joker said bloop and floated right on up to the top of the water pic.twitter.com/IuqwKXFb2L— Tia (@TheWittleDemon) April 24, 2018
"Bu noktada bebeğin cinsiyet hakkında bir fikrim yok o yüzden nefesimi tuttuktan sonra bebeği 'Cinsiyeti ne?' der gibi kaldırıyorum."
At this point I have no clue what the sex of the baby is so after catching my breath I lift it up like "What is it?" pic.twitter.com/dMUwCDO58X— Tia (@TheWittleDemon) April 24, 2018
"Ayrıca bir dip not: suda doğum YouTube'da gördüğünüz kadar güzel değil. Arkada çalan sakin, hippi müziği yok, ya da harika doğal ışık. Aşırı pisleşiyor."
Also Side Note: #WaterBirths are not as pretty as what you see on @YouTube there was no tranquil, hippie music playing gently in the back ground, or amazing natural lighting. It gets MESSY. pic.twitter.com/Igv5g6i7C4— Tia (@TheWittleDemon) April 24, 2018
"Neyse, bir OĞLUM oldu!!! Yaptığım ilk şey doğum haritasını çıkarmak oldu. 7 Mart 2018'de İstanbul, Türkiye'de doğdu."
Anyways ITS A BOYYYYYYYYY!!!!!!! And the very first thing I do is pull up his natal chart born March 7, 2018 in Istanbul Turkey pic.twitter.com/UPrhMBzLSu— Tia (@TheWittleDemon) April 24, 2018
Hikaye daha bitmedi. O çıktı ama plasenta hala içimde. Şimdi, internete göre çekip çıkarmamanız gerekiyor çünkü kendisini mühürlemesi gerekiyor muymuş neymiş, bilmiyorum."
Lol the story isn't over yet he's out but the placenta is still inside of me. Now according to the internet you're not supposed to pull it out bc it has to seal itself back up or something idk lol.— Tia (@TheWittleDemon) April 24, 2018
"Uyarı, Görüntüleyicinin İhtiyatlı Olması Önerilir. / Neyse, plasentanın geçmesini beklerken göğsümde genç Xay ile oturuyorum. İnternet plasentayı çıkmaya zorlamak için alt karın bölgemi ovmamı söyledi. Yani bir kolumda bebek diğer kolum pelvisimi ovar şekildeyim."
Warning Viewer Discretion is Advised So I'm sitting with Young Xay laying on my chest waiting for the placenta to pass. The internet told me to rub my lower abdomen to persuade my placenta to come on out. So her I am baby in one arm rubbing my pelvis with the other hand lol— Tia (@TheWittleDemon) April 24, 2018
"Bu arada şunu söyleyebilir miyim, göbek bağıyla dolanmak bir penise sahip olmanın nasıl olacağının izlenimini yaşattı."
Can I just say that walking around with the umbilical cord hanging out of me totally gave me the impression of what it would be like to have a penis. pic.twitter.com/Dicpn2ljSq— Tia (@TheWittleDemon) April 24, 2018
"Neyse, sonunda yeniden kasılmam varmış gibi hissetmeye başlıyorum ve plasentanın düşmeye hazır olduğunu varsayıyorum. Banyoya sürünerek gidiyorum ve tuvalete oturuyorum çünkü başka nereye gidebileceğimi bilemiyorum."
So finally it feels like I'm having another contraction and I assume this is the placenta ready to drop it like it's hot. So I shuffle to the bathroom and sit down on the toilet because idk where else to go pic.twitter.com/UpGTANtLnh— Tia (@TheWittleDemon) April 24, 2018
"Neredeyse oturur oturmaz cuk diye çıkıyor. Tuvalette otelin sanitasyon poşetleri var, bir tanesini alıyorum ve plasentayı bağdan tutup içine atıyorum. Fakat hala oğluma bağlı olduğu için şimdi de göbek bağının nasıl kesildiğini Google'da aratmam gerekiyor."
Almost immediately as I sit down it plops out. The hotel had these sanitation baggies in the bathroom so I just picked it up by the cord and dropped it in the bag. Now it's still attached to him so now I've got to google how to cut an umbilical cord. pic.twitter.com/urJHrIu9mN— Tia (@TheWittleDemon) April 24, 2018
"Önerdiği gibi kıskaçlarım yok ama ayakkabı bağlarım vardı. Dinleyin şimdi. Türkiye'de herkes çay/kahve içiyor, bu yüzden her otel odasında elektrikli kettle var. Yani ayakkabı bağlarını sterilize edip onları kıskaç olarak kullanabilmek için biraz su kaynattım."
So I didn't have any clamps like it suggested but what I did have were shoelaces lol. Hear me out . In Turkey everyone drinks tea/coffee so every hotel room had an electric kettle. So I just boiled some water to sterilize the laces so that I could use them as clamps. pic.twitter.com/2vObBQz6eu— Tia (@TheWittleDemon) April 25, 2018
"Ve biliyorsunuz her zaman silahlıyımdır. Bıçaklarım olmadan hiçbir yere gitmem. Ve sırf bu yüzden bir daha onlarsız muhtemelen hiçbir yere gitmeyeceğim."
And everyone knows that ya girl stays strapped . I don't go anyyyyyyyywhere without my knives. And because of this I'll probably never go anywhere without them again. pic.twitter.com/vAbCZ6bb1K— Tia (@TheWittleDemon) April 25, 2018
"Tamam, daha bir saniye oldu, o yüzden tam detaylarda biraz garip olabilirim ama şöyle bir şekilde gerçekleşti. Karından 5 santimetre gibi bir ölçü alıp bir bağı bağlayıp sonra oradan üç santimetre daha ölçüp diğerini oraya bağlamanız gerekiyor. Şimdi ortadaki göbek bağını kesiyorsunuz."
Okay so it's been a second so I may be a little iffy on the exact details but it went something like this. You're supposed to measure off like 2inches from the stomach and tie one lace and then tie the other inch another inch from there. Now you cut the cord in between. pic.twitter.com/t3EzOHmro2— Tia (@TheWittleDemon) April 25, 2018
"Şimdi, bütün süre boyunca gerilmedim ama bu bağı kesmek ödümü koparıyor. Ya acıtıyorsa? O yüzden bağı bıçakla dürterek oğlumun etkilenip etkilenmediğine bakıyorum."
Now I haven't been nervous this whole time but cuttingbthis cord is freaking me out lmao like what if I hurt this man?! So I'm poking the cord with the knife to see if it affects him. pic.twitter.com/mkmQfKP7S2— Tia (@TheWittleDemon) April 25, 2018
"Neyse ki, etkilemiyor. (İnternet de öyle demişti) O yüzden direkt kesiyorum. Ve bu göründüğünden daha zor."
Fortunately it doesn't (which the internet said it wouldn') so I cut right into that thang! And it's tougher than it looks lol pic.twitter.com/dRXfpwuesa— Tia (@TheWittleDemon) April 25, 2018
"Göbek bağı kesildi ve söylemek gerekirse muazzam iş çıkardım. Fakat bu noktada yorgunluk çökmeye başladı. Ama banyoyu temizlemem gerekiyordu çünkü bir korku filminin seti gibi görünüyordu."
Umbilical cord cut and I did a mighty fine job if I do say so myself ! At this point exhaustion is beginning to set in. But I need to clean up the bathroom because it looked like the set of a horror movie pic.twitter.com/DyvlwXXeQ2— Tia (@TheWittleDemon) April 25, 2018
"Banyoyu temizliyorum, bebeğimi emziriyorum ve uyuyorum. Hayır, hastaneye gitmiyorum, yatağa gidiyorum. Ertesi gün kalkıyorum ve havaalanına gitmek için hazırlanıyorum çünkü taksi parasını önceki gece uçamayacağımı bildiğim halde çoktan ödedim."
So I clean up the bathroom, breastfeed my baby, and go to sleep. No I do not go to the hospital I take my ass to bed. so the next day I wake up for and get ready to go to the airport because I already paid for the cab the night before & even though I knew I couldn't fly out— Tia (@TheWittleDemon) April 25, 2018
"Yeni doğmuş bir bebekle ülkeden çıkmak için ne gerektiğini bilmiyordum ve sormak için havaalanından daha iyi bir yer olamaz diye düşündüm."
I didn't know what I would need to leave the country with a newborn baby and I thought no better place to ask than the airport. pic.twitter.com/wTEhjfoIqC— Tia (@TheWittleDemon) April 25, 2018
"Oraya vardığımda havaalanı çalışanları çıldırıyorlar çünkü bebeğin yeni doğduğu anlaşılıyor. Resmen hiç bebek kıyafetim yoktu ve ona en sevdiğim mavi gömleğimden (Nur içinde yatsın) bir şey yaptım. Neyse, bebek kaçırmaya çalışan bir insan kaçakçısı olduğumu sandılar."
When I get there the airport workers are freaking out bc you can tell this baby is fresh. I legit didn't have any baby clothes & made him something out of my favorite blue oversized button down (RIP ). Anyway they thought I was a human trafficker trying to smuggle out a baby. pic.twitter.com/dc0BCDv75J— Tia (@TheWittleDemon) April 25, 2018
"Gümrüğü, polisi, doktoru, hemşireyi (bebeği ve gerçekten doğum yapıp yapmadığımı kontrol etmek için) ve havalanının yüksek makamlarını çağırdılar. (Doğal olarak) soru yağmuruna tutuldum ama sonunda kaçakçı olmadığımı kanıtladım. Bu süreçte ABD Büyükelçiliğini aradım."
So they called in customs, the police, a doctor & a nurse (to check the baby & me to see if I actually gave birth), and the airline higher ups. I was bombarded with questions (naturally) but finally I proved that I wasn't a trafficker. During this I called the @USEmbassyTurkey. pic.twitter.com/HH9zQybcHB— Tia (@TheWittleDemon) April 25, 2018
"Neyse, bulunduğum odanın kapısı çalındı ve birisi gelip 'Fotoğrafını çekmek istiyorlar' dedi. Araştırmanın bir parçası olduğunu düşündüm. Değildi. Dışarı çıktım ve her yerde basın vardı."
Anyway there's a knocked on the room that I'm in an someone comes in and says "they want to take your picture." I'm thinking this was a part of the investigation. It was not lol. I walk out and there are press EVERYWHERE!!! pic.twitter.com/YdCSC4U1U9— Tia (@TheWittleDemon) April 25, 2018
"Nasıl öğrendiler bilmiyorum ama birisi onlara hikayemi ötmüş ve bir sürü soruları vardı. Eğer adımı ve İstanbul, Türkiye'yi aratırsanız makaleler çıkıyor. Fakat hepsi Türkçe, o konuda bol şans. (Bunlar bana yardım eden hanımlar)"
Idk how they found out but someone tipped them off to my story and they had all the questions lol. If you google my name and Istanbul Turkey articles will pop up . It's all in Turkish though so good luck with that lol ‍(These are the ladies who helped me) pic.twitter.com/JsHQEUjtMy— Tia (@TheWittleDemon) April 25, 2018
"Dip not: Türk Hava Yollarına teşekkürler. Şimdiye kadar deneyimlediğim en iyi uçuş, uçuş görevlileri, hizmeti ve genel olarak tüm çalışanlarına sahipler. Herkes çok iyiydi! Oğluma ilk kıyafetlerini aldılar. Çünkü oraya vardığımızda neredeyse çıplaktı."
Side Note:Shoutout to @TurkishAirlines this was hands down the best flight, attendants, services, and overall workers I've ever experienced. Everyone was so nice! They bought him his first outfit lol. Because he was damn near naked when he arrived pic.twitter.com/8R1TbasUJx— Tia (@TheWittleDemon) April 25, 2018
"Neyse, Türk Hava Yolları beni ABD Konsolosluğuna bir çevirmenle birlikte bedavaya gönderdi. (Cidden teşekkürler!) Ve oraya gittiğimizde bir gazeteci hiç yoktan ortaya çıkıp sorular sormaya çalıştı. Hanımefendi, beni nasıl buldunuz?!"
Anyway @TurkishAirlines shuttles me over to the US Consulate for free with a translator (really shoutout to them!) and when I get there a journalist pops out of nowhere trying to ask me question like ma'am! How did you even find me?! pic.twitter.com/P64aq12xCv— Tia (@TheWittleDemon) April 25, 2018
"Çevirmen 'belki sonra' falan dedi. Gazeteci de 'beklerim' dedi. 2-3 saat falan konsolosluktaydım. (Çok uzun bir gündü) İçerdeyken bir sürü aynı soruya cevap vermek ve doğum sertifikası ve pasaportu için başvurmak zorundaydım."
So the translator is like like miss maybe later. The reporter was like okay I'll wait. So I'm in the consulates for like 2/3 hours (it has been a superrrrrrrr long day). So as I'm inside I have to answer a bunch of the same questions & apply for his birth certificate & passport pic.twitter.com/X3JptPMaJi— Tia (@TheWittleDemon) April 25, 2018
"Ondan sonra beni hastaneye götüreceklerini söylediler. Doğum yapalı 24 saat olmuştu. Ama gitmeden önce konsolosluktaki bağlantım geri gelip arkadan gitmem gerektiğini çünkü ön tarafın çok kalabalık olduğunu söyledi."
After everything they say they're going to take me to the hospital. It's been almost 24hrs since I've given birth. But before I can go my consulate contact comes back & tells me I have to go out the back & get escorted by this special agent bc the press were too heavy out front. pic.twitter.com/WE8YBFSVRa— Tia (@TheWittleDemon) April 25, 2018
"Kısa kesmek gerekirse, hastaneye gidiyorum, kontrol ediliyorum, her şey yolunda. Oğlum son derece sağlıklı! Doktorlar hikayemi duyunca şok oldular. Ülke çapında haberlere çıktım ve insanlar sürekli fotoğraf çekinmek için bizi durduruyorlardı ve rastgele bir yaşlı kadın emzirirken mememi tuttu."
To wrap up I go to the hospital get checked out everything is fine. He's perfectly healthy! Lol the doctors were shocked to hear my story. I made national news & people would stop us to take pictures all the time & a random elderly woman grabbed my boob as I was breastfeeding pic.twitter.com/gGp4lJvEvl— Tia (@TheWittleDemon) April 25, 2018
"Çünkü bana doğru şeklini gösteriyordu. Çok fazla reklamlarını yaptığım için Türk Hava Yolları iki haftalık otel ücretimi ödedi, yemeklerimi düzenledi ve dönüş uçuşlarımı Business Class'a yükseltti ve biz de savurgan Business Class'ın tadını çıkardık. Son."
Because she was showing me the correct way to do it . Because I gave them so much publicity Turkish Airlines paid for my hotel stay for two weeks, comped all my meals, upgrade @BBills_ & my return flights to business class and we enjoyed the lavish business lounge. The end — Tia (@TheWittleDemon) April 25, 2018
"ABD'ye döndüğümüzde de basın oradaydı. Sanırım her şeyi anlattım."
Oh yeah and the press were there when we flew back to the states too I think I covered everything pic.twitter.com/SJeRa9dsID— Tia (@TheWittleDemon) April 25, 2018
"Bir de doğurduktan günler sonrasına kadar kimse bir bebeğim olduğunu bilmiyordu (annem bile) o yüzden bu hikaye herkese yayıldı."
Oh and no one knew I had a baby until days after I gave birth to him (not even my mom) so I sprang this story on everyone — Tia (@TheWittleDemon) April 25, 2018
"İşte Xavier Ata Freeman, 7 Mart 2018,İstanbul, Türkiye'de doğdu. Benim küçük uluslararası sevinç demetim! (Göbek adı Türkçe)"
Here he is Xavier Ata Freeman born March 7, 2018 in Istanbul, Turkey! My little surprise bundle of international joy! (His middle name is Turkish) pic.twitter.com/HVlnvqEClQ— Tia (@TheWittleDemon) April 25, 2018